Denial,
9 November 2019 7:30pm
Community Events
B'nai Torah presents, in conjunction with the Sarah and Chaim Neuberger Holocaust Education Centre, a film: Denial, this Saturday night, November 9, at 7:30 PM, in the Sam Ferman Hall.

Oscar winner Rachel Weisz stars in this powerful true story based on the acclaimed book Denial: Holocaust History on Trial. When Deborah Lipstadt speaks out against Holocaust denier David Irving over his falsification of history, she discovers that the stakes are higher than ever in the battle for historical truth. Now faced with a libel lawsuit in British court, Lipstadt and her attorney have the heavy burden of proving that the Holocaust actually happened, in a riveting legal fight with stunning consequences.

Light refreshments will be served.

No registration is required. This program is free of charge and all are welcome to attend.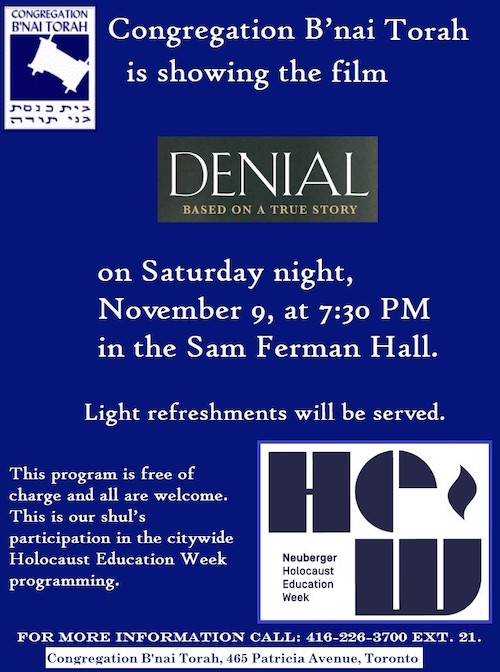 Location:
Congregation Bnai Torah
465 Patrica Ave
Willowdale
M2R 2N1
Map It!
Toronto Eruv

Eruv status verified Friday afternoons. For email notification,

CLICK HERE
Toronto Weather